Hip Hoppers Holiday Activity Club
For all children of primary school age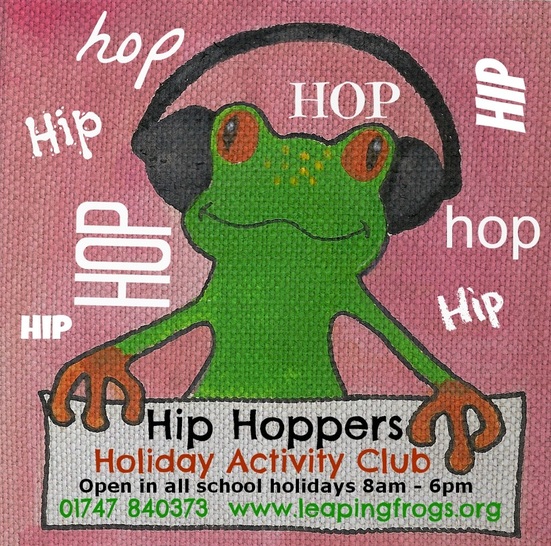 Looking for adventure during the school holidays?

There are so many different experiences waiting for your child to try.
Each day is packed with arts & crafts including paper mache, grafitti art, large scale canvas painting, poster design and clay modelling. Sports and team building games. Animal care including pony grooming and caring for small pets and chickens. Drama including performing short plays and presentations. Forest skills including den building, making leaf aliens & cooking on an open fire.
Join in the 'great hip hoppers bake off 'or design a menu of their own on our 'come dine with me' afternoon. There is so much on offer everyday!

We like to offer a variety of activities each day rather than 1 day dedicated to sport, another to craft etc.. this way children get to experience and learn new and interesting skills they didn't even know they enjoyed before! No 2 days are the same.

'Variety is the spice of life'
and there is never a dull moment at Hip Hoppers!



It's where the hip kids hop !
Come and join us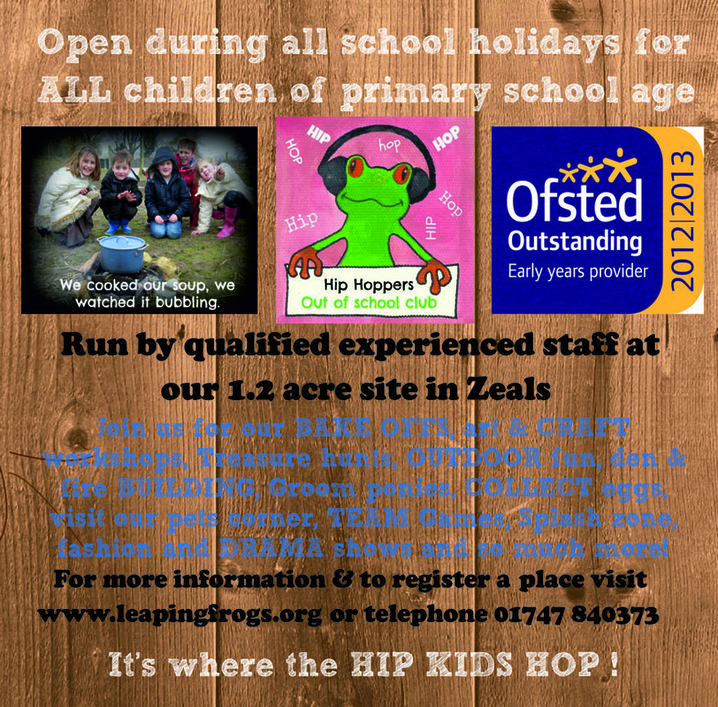 ​A Great opportunity to live the good life and discover the outdoors at our 1.2 acre site.
Home cooked meals and snacks. (see below)
Run by qualified and CRB checked staff at Leaping Frogs Day Nursery, Zeals.

Dates for Holiday Club 2017/2018
October half term 23rd - 287h October 2017
We do not run a Hoppers Christmas Holiday Club
February 2018 half term 12th - 16th
​Easter 3rd April - 13th April 2018 (please note we are closed Good Friday 30th March & Easter Monday 2nd April)

May half term Tuesday 29th May - Friday 1st June 2018
(we are closed on bank holiday Monday 28th May)
Summer holiday activity club begins 23rd July 2018

You do not have to commit to whole weeks, pick and choose which days suit you best, no minimum requirement.

Please print off a registration/booking form and send it together with your payment to Leaping Frogs Day Nursery, New Road, Longcross, Zeals. Wiltshire. BA12 6LJ. There is also an information booklet below, with details of what to bring with you etc.. We must receive payment with your booking form. Once received we will telephone to confirm your place.
​
Fees
8am - 3.30pm
£20 per day
8am - 6pm
£25 per day
There is a charge of £2.50 per day for a home cooked lunch
(see current menu on menus page)

Places are allocated on a first come first serve basis,
​so please sign up early to avoid disappointment.
Download a registration form and send it to us with payment to:
Leaping Frogs Day Nursery
New Road
Longcross
Zeals
BA12 6LL
(Please make all cheques payable to Leaping Frogs Day Nursery CIC)
Telephone 01747 840373
or email us at leapingfrogs@btopenworld.co.uk
Hoodies and T shirts now available (apple green top with purple logo) Please ask in reception for sizes and prices.